Founder and owner of Gallery 11:11
I have been practicing art for my entire life. Completing a Bachelor of Fine Arts at the University of Western Sydney, Nepean in 1998 marked the beginning of taking my artwork to a new level. Post University studies, teaching, exhibiting and curating have been my focus and continue to do so.
Art making is a staple for me, a necessity. The art making process nourishes, challenges, provokes, humbles and provides grounding and perspective.
My surroundings constantly influence my technique and choice of materials.
Texture and colour, light and movement remain my constant sources of inspiration. Such elements are observed and recorded on a conscious and subconscious level daily. This collection of thoughts and experiences tend to build and then eventually pour out into the canvas. I remain open to the concept of change pushing myself to engage in the exploration of tools and mediums. My constant is the tactility of my work and the subject matter that being Mother Nature.
I aspire to create work that evokes emotion and warms the soul, celebrating natural surroundings.
Art making is both personal and therapeutic for me. My internal doctrine has never embraced a work to live mentality only live to love and live to paint.
Kristine Ballard is an artist and art educator with a passion for colour and expressive paint.

After spending over two decades in the Design Industry she made the jump to full time Artist and Art Educator and never looked back.
Kristine' has been working on developing her style called 'Fragmatism®' a painting style focusing on colour and abstraction. Her subjects centre around still life and landscape. Human connections to the environment and the objects that fill them, continue to inspire her creative practice.

Kristine has exhibited internationally and nationally and continues to be an active member in the arts community with solo and group shows annually. She has completed art residencies in the USA, Venice, Fiji and at Monsalvat (Australia's oldest art colony). She has art licensing contracts where her artwork is reproduced for wall art and fabric collections internationally.

Kristine loves helping others uncover and develop their own creativity through teaching and mentoring in the arts. She ran a partnership in the Northshore School of Art in Mosman for over 12 years, has conducted hundreds of art events and been an arts presenter of EDTV, where art classes were streamed live to students in the outer regions of Australia. She runs an annual Art Retreat in Fiji and teaches the local students there. She facilitates many workshops and conducts art mentoring and specialised one-to-one art tuition. Her experience of Design and Fine Art equip her for preparing students for the merging worlds of Art and Design.

Jenny McIntosh was raised in the western suburbs of Sydney, later moving to the Upper Blue Mountains. Born into a family of photographers and musicians she was encouraged to explore the arts from an early age. Jenny spent much of her formative years immersed in the Australian bush, developing a connection to that landscape which is often evident in her work.
Jenny's art education has largely been self-directed, with her own research and investigation being the mainstay. In addition, she has had forays into formal education at TAFE and University level. Though circumstances have not allowed for completion, Jenny particularly values those years for the friendships and contacts made, enabling opportunity for further creative growth.
Comfortable with most mediums including photography, it is oil painting that remains central to Jenny's artistic practise. While current work has traditional overtones, it has always been an important guideline that she be open to trying new materials and methods of working, thus allowing the opportunity for divergence within her work.
Jenny began exhibiting at an early age and has participated in many group and solo shows. Her work is held in private collections both in Australia and overseas.
She currently resides on the NSW south coast with her husband and two cats.
Demonstrating a passion for the Arts since a young age, Rebecca graduated in 1998 with a Bachelor of Visual Arts from the University Of Western Sydney. In 1999, she completed a Graduate Diploma in Secondary Education from the Australia Catholic University, Strathfield.
Her passion and enthusiasm for teaching and learning in the Visual Arts enabled her ability as a highly skilled classroom teacher to bring an immense repertoire of art practice to the young people in her classroom for the past 20 years.
Since her first exhibition at the Foyer Gallery in 1997, Rebecca is an award winning artist who has continued to create and exhibit works both nationally and internationally including exhibitions at Penrith Regional Gallery, Tap Gallery, Darlinghurst, Art Moment Gallery, Bondi, MLC Gallery, Ultimo and Sydney Art 09,12,13 at the Royal Hall of Industries, Moore Park and more recently at Fairfield City Museum /Gallery, Casula Powerhouse and Palazzo Velli Gallery, Rome, Italy.
Rebecca is now an established designer, fusing art and design together. Rathenart Designs is a multi-facetted business servicing Art, Design and Custom Printing. Her first range from her collection Rathenart was launched in the Summer of 2011 at Las Vegas Fashion Week and continues to capture the imagination of the world with its vibrant and bespoke textile design.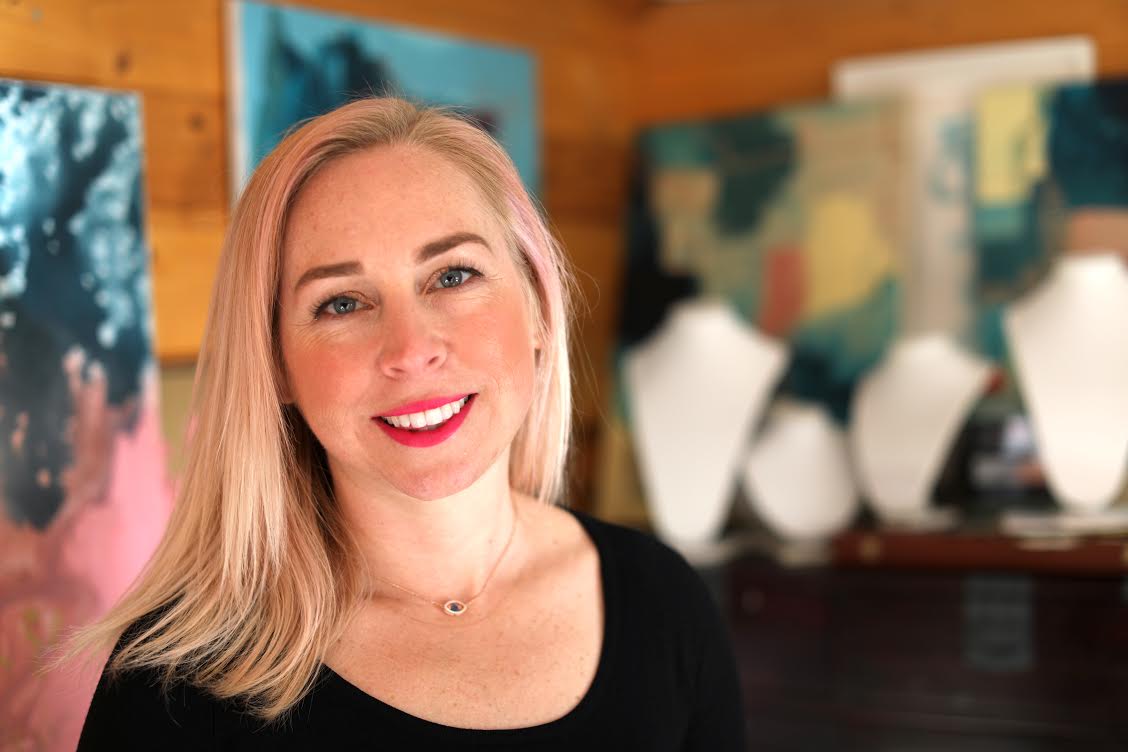 Jessika Steiner was born in New Caledonia where she lived on her Swiss father's hand built yacht before settling on the Hawkesbury river north of Sydney. Growing up surrounded by bush land has provided a foundation of memories from which to draw which Jessika sees as fundamental to her artistic practice.
Jessika's current practice in acrylic and mixed media painting translates memories and nostalgia into colour and form.
"Through extensive experimentation and play, I discovered a way to communicate my mind's snapshots of the beautiful vivid colours and organic shapes of my childhood. The themes found in natural forms that make up such an immense part of my history have shaped the way I express myself with colour and helped guide my exploration of shapes. These works are the product of a 'creative flow', an organic and spontaneous process of painting and creating that reflects and informs my appreciation of the natural world."
Lee Knutson grew up in Berthoud, Colorado, which gave him many opportunities to interact with the beautiful landscape around him. He currently resides in Johnstown, Colorado on a historical farm, and in addition to painting, is actively involved in agriculture, irrigation and water conservation. The constant change in nature, colour and form around Lee on the high plains of the Rocky Mountain region are a pivotal inspiration to his paintings.
Lee enjoys using all types of mediums, but usually paints with enamels.
The way that the enamel flows onto the canvas gives the viewer a unique perspective compared to the more traditional mediums. He describes his process as "an attack on the canvas" or 'reckless abandon". Despite being an emerging artist, viewers immediately pick up on the intensity of Lee's work; he has won the 2015 2nd Place Award at he Boardwalk Gallery 'Beauty surrounds us' Show, the 2017 2nd Place Award at the Lincoln Gallery Regional Fine Arts Show. He has also been featured in several more recent gallery exhibitions.
Lee has four series of paintings currently in progress: Somewhere, The Old Barn Window, Albatross and Rookery. As an accomplished musician, he is also pursuing various avenues to incorporate music into his painting installations.
Lee's goal is always to transport an audience 'into a moment of time somewhere" using any medium possible.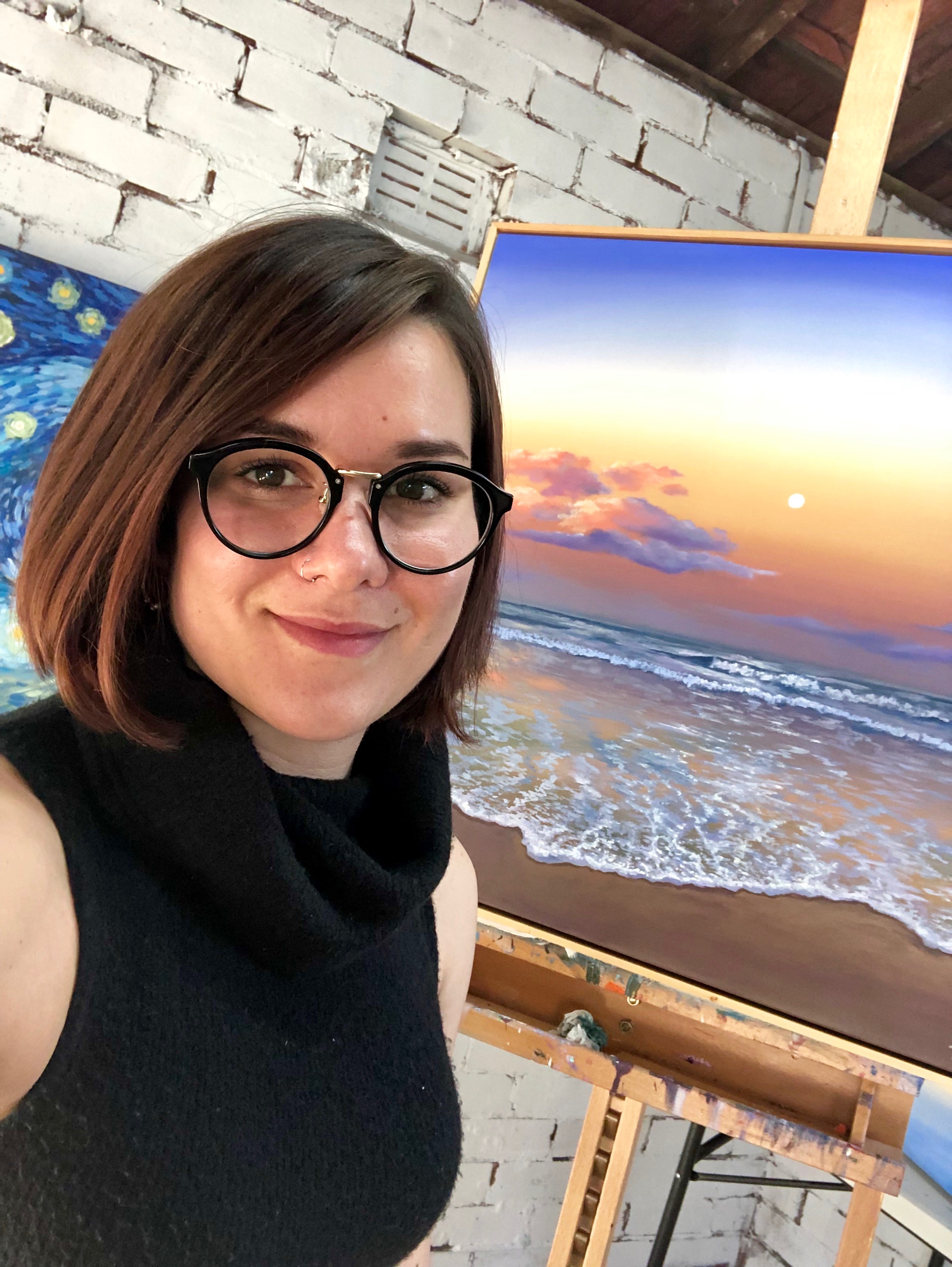 Teresa Small is an emerging artist, based in Sydney, Australia.

Working primarily with oils and acrylic, her expertise is in painting. Creating exceptionally high quality art works that ranges from photo-realistic portraits, sublime landscapes to bold, vibrant and surreal abstract styles. She exhibits her work in multiple art shows and local cafes, as well as market stalls around the eastern suburbs and inner west of Sydney. She has proven to be exceedingly popular with clients for her commissioned works and lessons. Being a Chroma sponsored artist she conducts material demonstrations in acrylics and oils at art stores, universities and schools.

Her perception of the beautiful world changed completely when she was introduced to painting. She fell in love with the world in a whole new way. Nature is her biggest source of inspiration, through nature she observes strict realism, the full spectrum of colours, and the free organic patterns in which her abstracts imitate.
Adriana is a Sydney based artist that is fascinated with the varied forms and use of both colour and light, in her current watercolour work as well as across various mediums and techniques. With her technical background in all forms of printmaking and also watercolour, Adriana graduated with her Masters in Research from Sydney College of the Arts in 2015, and has been teaching and working in the field full time ever since. Her background in product development and procurement of art materials also lends itself to her fascination of colour in all its material forms, with her varied knowledge of products lending itself to her own art practice and that in turn flows through her teaching.
At present she is focusing solely on water based media, taking an experimental approach to the exploitation and anticipation of watercolour as a medium, and its relationship to paper as an object. Through layers of translucent glazes of colour she focuses on re-creating figments of memory and worlds that are a study on the immediacy of paint. There is a strong focus on recapturing an affinity to the landscape through water and reflection, as well as through an amplified use of both luminosity and colour in her works. At its core, her work is whittled down to a process using the barest of necessities in water, pigment, paper and a single brush.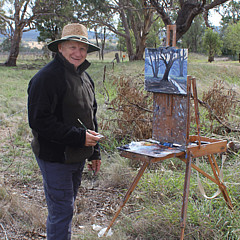 John is an energetic outdoor painter who works almost exclusively in oils and is stimulated by the strong light of the Australian landscape. He is particularly enthusiastic about the districts from the Blue Mountains to Mudgee in The Central West artistically. He enjoys painting the landscape from life, "en plein air", and engages in regular painting trips to country locations. John lives in the village of Mulgoa on the western fringes of Sydney, providing a lot for an artist to digest both aesthetically and culturally as a central location for the Hawkesbury, Blue Mountains and Sydney.
John has won many awards for his artworks and has held twelve very successful solo exhibitions and numerous joint exhibitions. He has works in private collections throughout Australia and abroad and is an exhibiting member of the Royal Art Society. John has almost forty years teaching experience and conducts regular workshops and demonstrations at his studio and for local art societies.